Self-Filtering Fully Welded Ball Valve with Inner Strainer (GLQ61F)
Model NO.: GLQ61F

Type: Fully Welded

Function: Blow-Down Valve

Temperature: -29 Deg C -- 200 Deg C

Application: Industrial Usage, Water Industrial Usage, Household Usage, Power Plants

Applicable Medium: Water, Gas, Oil, etc.

Main Feature: Fully Welded with Inner Strainer

Trademark: GOOLE, OEM, ODM

Transport Package: Plywood Case

Origin: Wenzhou, Zhejiang, China

HS Code: 8481804090

One  Piece Body self-filtering fully welded Ball Valve

(You can also get the complete details in our company website as following:

http://www.chinavalve1.com/product/Fully_Welded_Self-filtering_Ball_Valve.html)

Technology Background

In the transmission pipeline of fluid media, the ball valve is an effective and necessary cutoff device. In order to remove the impurities and dirt from the fluid media and keep the transmission pipeline clean and unblocked, a filter set in the transmission pipeline is an essential and important equipment to improve the fluid quality. At the moment, filter and ball valves installed in the transmission pipeline take a large space and are often restricted by application conditions and it's difficult to remove and wash the filter.

 

This new practical self-filtering Fully welded ball valve solves the existing problems such as restriction of installation conditions on the setting of filters in the pipeline, the cleaning difficulty during the maintenance, etc. Its reasonable design, compact structure, flexible labor-saving operation, quite convenient installation and maintenance not only obviously reduce the occupied space, but also are good for the cost reduction and wide promotion and application.

Under the opening state of self-filtering fully welded ball valve, when the fluid media passes the inner through-hole cavity of the ball, it can be filtered by the filter network st by its own. When the ball is rotated 90 degrees clockwise, the self-filtering welding ball valve will be in the closing state playing the role of cutting off the fluid media in the transmission pipeline.

On the side wall of the valve body, the connected mid-flange and the drain pipeline connected with the cleaning water pipe are st. It's able to clean the filter network conveniently and quickly by opening the mid-flange cover and the drain pipeline. It can also set an electric valve or pneumatic valve in the drain pipeline in order to realize the self-washing of the filter network. If the filter network is broken, it's able to exchange by opening the mid-flange cover.

 

Technical Features of self-filtering fully welded ball valve

With the integrated welding structure, there will be no external leakage problem.

The valve seat is constituted by carbonized Teflon seal ring and spring with strong ability to adapt pressure and temperature changes. Within the standard pressure and temperature range, there will be no leakage.

The manufacturing process of the ball is traced and tested by the advanced computer detector. The ball has high manufacturing density.

The seal ring adopts C-PTFE Material with 20% Carbon to guarantee no leakage at all.

Compared with similar products or products of the same specification, the valve body is small and light with a beautiful appearance and long service life.

The valve body, ball and side valve body all adopt seamed steel pipes molded by pressing. At the valve rod, use the double O-Ring for seal with the blow-off resistant function.

The filter network and the ball combine as one. The link of the ball of filter network itself plays a role of filtering in the pipeline and can replace the filter, achieving the effect of one valve with multiple functions. Therefore, it's able to save the installation space of pipeline and the business cost and stop impurities with a diameter of greater than 4.5mm.

The filter network adopts the V-Shaped Port to guarantee the normal pass of media in the case of blocking impurity particle, while the valve can work normally. It adopts the pressure relief valve design which can adjust the internal and external pressure difference of the valve and improve its security performance. Meanwhile, it's able to replace the pressure relief valve with a threaded ball valve to make the operation time-saving, labor-saving, convenient and flexible.

 
| | | | | | | | |
| --- | --- | --- | --- | --- | --- | --- | --- |
| 1 | Valve Body | 9 | Disc Spring | 16 | Valve Stem | 23 | Cover Plate |
| 2 | Ball | 10 | Valve Seat | 17 | Casket | 24 | Pin Shaft |
| 3 | Side Valve Body | 11 | Pressure Relief Valve Seat | 18 | O-Ring | 25 | O-Ring |
| 4 | Cone Filter | 12 | Pressure Relief Valve | 19 | Valve Stem Cover | 26 | Slipknot Bolte |
| 5 | Tube Filter | 13 | Pin | 20 | Gland Ring | 27 | Bottom Filter |
| 6 | Valve Seat Ring | 14 | Stopper Pin | 21 | Cotter Pin | 28 | Fixed Ring |
| 7 | O-Ring | 15 | Valve Stem Sleeve | 22 | Mid-Flange | 29 | Hexagon Screw |
| 8 | Gasket | Â  | Â  | Â  | Â  | Â  | Â  |
 

 

Goole Self-Filtering Fully Welded Ball valve, a valve with multiple functions, plays the role of not only media-cut-off but also filtration. So the installation space is saved and it's able to omit the traditional front filter. The installation is clean, simple and convenient. With the fully welded structure, the service life is longer.

 

Technical Parameter of self-filtering fully welded ball valve

Nominal Diameter: DN65-DN350

Nominal Pressure: PN1.6 -Â PN6.4 MPa

Applicable Temperature: -29ºC~200ºC

Operation Method: Handle, Gear, Electric, Pneumatic

Applicable Range: Industrial Piping filed such as heating pipe network, sewage treatment, air-conditioning pipe network, power plants, oil pipelines, etc.

Applicable Medium: Non-Corrosive Media such as water, gas, oil, etc.

 

Parts Name and Material of self-filtering fully welded ball valve
| | |
| --- | --- |
| NAME | MATERIAL |
| Valve Body | Carbon Steel |
| Ball | Stainless Steel |
| Filter | Stainless Steel |
| Drain Cover | Carbon Steel |
| Short Connection Pipe | Carbon Steel |
| Valve Seat | PTFE +Â C |
 

 

The Unique Design for the Inner Strainer of self-filtering fully welded ball valve

Design of traditional filter.  

 When impurity particles are cut off in the whole filter, media will be seriously blocked which will cause large heat loss, increase the internal pressure of the valve and reduce the service life of the valve.

  2. Design of GOOLE  V-PORT Filter With the V-Port Design, impurity particles are cut off at the bottom of the filter and media can pass the V-Port normally which will not increase heat loss, increase the internal pressure of the valve or reduce the service life of the valve.

Selectable pressure relief methods and cleaning methods

The standard pressure relief configuration of this filter valve is the pressure relief valve structure. Meanwhile, it's able to use the threaded ball valve to replace the pressure relief valve.

   2. Design of pressure relief valve In the cleaning /Maintenance of the valve, it's able to relieve the pressure inside the valve by the pressure relief valve and then open the drain outlet to clean / maintain the filter. It has a reliable security performance.

  3. Design of threaded ball valve It's able to relieve the pressure inside the filter valve by the threaded ball valve. After opening the threaded ball valve, release the pressure inside the valve until there's is no pressure. Exert pressure to one side of the threaded ball valve with a pneumatic pump to remove the dust and impurities inside the filter.

 

Using Method of self-filtering fully welded ball valve

Installation and application methods

 The arrow pointing of the valve is the flow direction of media. Close the ball valve, open the slipknot bolt of the flange cover, take out the filter and then it's able to remove the blocked impurities.

Cleaning Process

Under the normal working condition, the arrow of the self-filtering fully welded ball valve points to the flow direction of media.

Close the filter valve, and gradually release the pressure inside the filter ball valve until there's no pressure.

When there's no pressure inside the valve, slowly open the drain outlet of the filter valve.

Slowly get rid of the fluid dirt and impurity particles inside the valve.

Take out the filter full of particles and impurities after taking down the bolt to fix the filter.

Re-install the cleaned/exchanged filter inside the valve and start the normal operation.

Standard Regular Bore Self-Filtering Fully Welded Ball Valve

 Dimension for  PN 25  Handle Operated  type  (mm)
DN
A
L
L1
L2
D
D1
H
GOST
EN
65
250
300
176
114
76.3
76.1
108
186
80
280
300
204
127
89
88.9
133
210
100
280
325
204
127
108
114.3
159
210
125
420
325
210
135
133
139.7
193
214
150
570
350
245
155
159
168.3
219
220
Please confirm the size when order.

 

 Dimension for  PN 25  Gear Operated  type  (mm)
DN
A
L
L1
L2
D
D1
H
GOST
EN
200
198
400
270
178
219
219.1
273
318
250
255
520
332
222
273
273.1
351
395
300
245
630
407
282
323.9
323.9
425
467
350
319
650
455
455
377
355.6
508
540
Please confirm the size when order.

 

Contact Details:

Ms Cathy

 

Mobile: 008613868628912, 008615057596965

 

 

 

 

Plastic Recycling Machine converting waste plastic to be plastic oil, machine main parts as below:

Pyrolysis reactor, Oil Separator, buffer Tank, cooling system,water sealing... Different parts working as different function, but key target is safety and profit.

Yilong Machinery ensure squeeze all of the oil covered in customer material to ensure customer profit, of cause, based on safe working condition.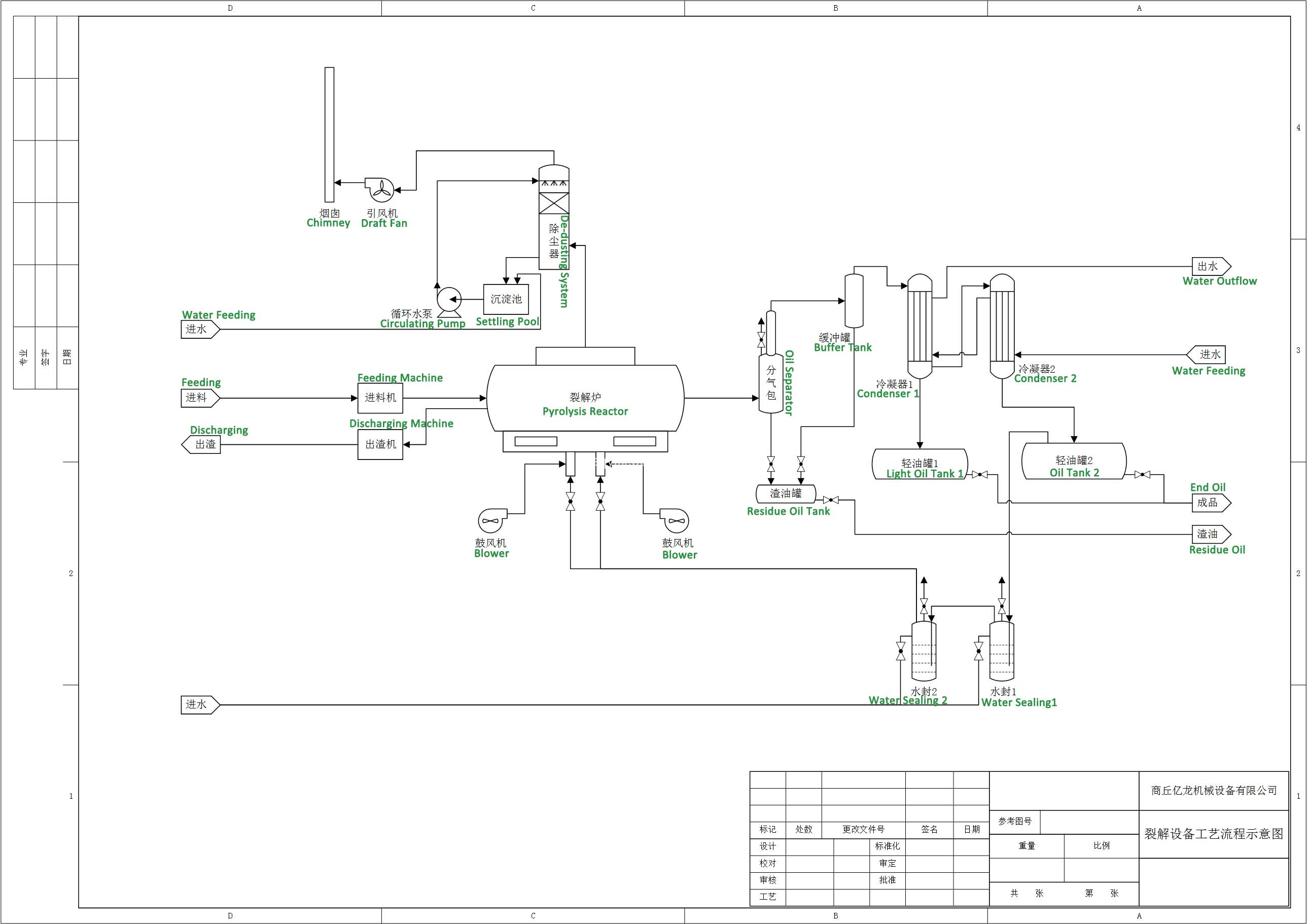 Waste Plastic Recycling Machine

Plastic Waste Recycling Machine,Waste Plastic Recycling Equipment,Waste Plastic Recycling Plant,Automatic Waste Plastic Recycling Machine

Shangqiu Zhongming Eco-Friendly Equipment Co., Ltd. , https://www.sqzhongminggroup.com