Cast Steel Wcb Lcb Lcc Flange Trunnion Mounted Top Entry Ball Valve Manufacturer
Model NO.: Q47

Type: Flexible Ball Valve

Function: Blow-Down Valve, Relief Valve, Atmospheric Valve, Bypass-Valve

Temperature: Normal Temperature

Application: Industrial Usage, Water Industrial Usage, Household Usage

Body: Split Body or Integral Body

Ball: Enp, Chrome Plating, Tungsten Carbide, Chrome Carbide

Stem: Blowout-Proof Stem

Seat Ring: Single Piston Effect or Double Piston Effect Seat

Seat Insert: PTFE, Rptfe, Nylon, Devlon, Peek, Molon

O Ring: Aed O Ring

Fire Safe: External Leakage Prevention, Internal Leakage Prev

Sealing: Double Block and Bleed

Cryogenic Services: Extended Bonnet for Cryogenic Services

Special: Nace Mr-0175

Trademark: O. E. M or AEA Brand

Transport Package: Plastic+Wooden Case

Specification: 1500*1500*2000mm

Origin: China

HS Code: 848180

AEA Top Entry Ball Valve 

requires two in-line isolation valves and a bleed valve, used to drain or vent trapped fluid between the two closure elements in order to safely isolate safely the downstream pipe. This feature can be achieved with one single valves c/w a bleed port between the obturator.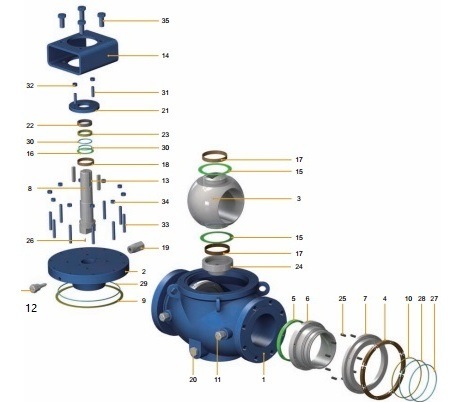 Specification
Details
Design Standard
API 6D /Â ASME B16.34
Pressure/Temperature Chart
ASME B16.34
Face to face Dimension
API 6D /Â ASME B16.10
Testing Standard
API 6D /Â ISO 5208
Flange Details
ASME B16.5 up to 24″
ASME B16.47 26″ and Above
Size Range
2″ - 42″ (DN50 - DN1050)
ASME Class
150 -Â 2500
Bore Type
Full Bore and Reduced Bore
Materials
WCB /Â LCB /Â LCC /Â CF8M /Â CF8 /Â CF3M /Â 4A /
6A /Â Inconel
Trims
F6a /Â F316 /Â F304 /Â F316L /Â F51 /Â F55 /
Inconel /Â 17-4 PH
Seats
Soft /Â Metal
Ends
Flange ends, Butt-weld End
Main Application

•Offshore oil & gas production

•Gas & oil terminals

•Chemical & Petrochemical

•Refining

•Fiscal Metering Skid Manufacturing

•LNG gas carrier

•Process/ Power industr y contractors

Advantage

•Space and weight saving

•Cost saving (product & installation)

•Minimized leak paths

•Increased line structural integrity

•ESDV+MOV or ESDV+XV configurations

•Increasesd reliability of the system

Design Feature

•Anti blow out/low emission stems

•Fire safe & anti-static design

•Independent ball and stem

•Self aligning trims

•Self relieving/ Double piston effect

floating seats

•Soft or metal seated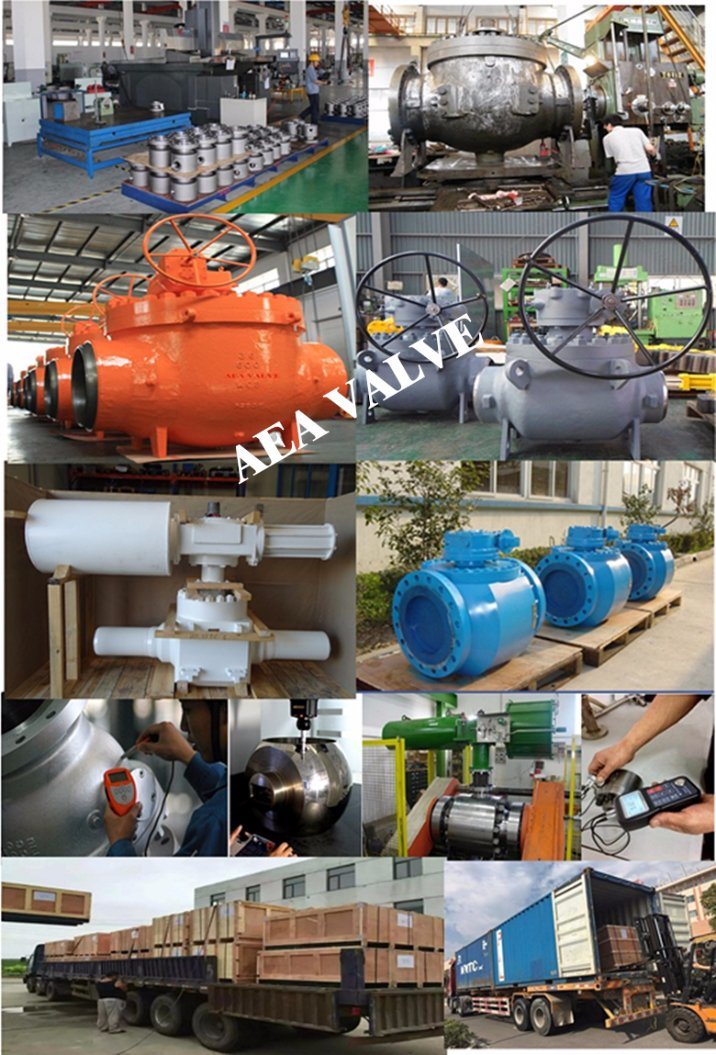 Why Choose us?
1.      Factory: 
AEA VALVE, a specialist manufacturer, established since 2008 and professional production of industrial valves over 10 years.
2.      Regional Sale: 
We provide specialized sales service refers to different kind of region all over the world. Each sales team member is good at the local language and well experienced to the responsible market. For example: Russian, German, Spanish, Japanese, etc.
3.      Low MOQ: 
Our factory owns the casting company by itself. We are always ready for providing the sample and producing some small orders, in order to meet the business well.
4.      OEM or Customize: 
OEM Service or Customized size is Available. 
5.      We can make the products with the client's demand standard or the custom requirement.
6.      Complete Solution: 
We are always ready to hear from you, be responding to your enquiry immediately. Our trade manager is always online for you.
7.      High Quality: 
We have strict quality control system and amounts of testing equipments for different kind of valve, such as size, pressure, working environment etc. We are winning the market reputation with the time goes by.
8.      Quick Delivery: 
We have the large stock for some hot products.
9.      Competitive Price: 
10.  We are the manufacturing company which not only has our own manufacturing workshop, but the casting company as well. We provide the straight factory price and service to our customer.
11.  Quality control:
All the products are calibrated with real working condition, and tested before shipping as qualified product. 
12.  Problem solve:
If you can't solve the problem in your local, please delivery the product to us, we will repair it and then back to you. 
13.  Integrity: All the warranty and guarantee from us will be put into come true
14.Online Service: any inquiry, please contact with email:Â Â . We will reply you within 12 hours.

 

FantasView Multi-Fit Plastic Rear Wiper Blades:
Have 4 adaptors cover 95% Rear Wiper Applications
4 New SKU=16 Old SKU
Available Size: 11" 12" 14" 16"
MOQ: 0nly 100pcs/each size
Fit for most of American Cars, European Cars, Japanese Cars, Korean Cars
Easy Installation, and good performance
Competitive Prices
Multi-Fit Plastic Rear Wiper Blades

Multi-Fit Plastic Rear Wiper Blades,Multi-Fit Plastic Wiper Blades,Plastic Wiper Blades,Multi-Fit Windshield Wiper Blades

NINGBO FANTASVIEW WIPER BLADES CO., LTD. , http://www.fantasview.com