PVC Pipes and Joints Injection Molding Making Machine
Computerized: Computerized

Certification: CE, ISO9001:2008

Material: Stainless Steel

Certificate: Ce,ISO,SGS

Composition: Injection Machine

Processing Material: Pet ,PP,PE

Elctric: Siemens,Mitsubishi,etc

Warranty: Two Years

Capacity: 90ton to 1000ton

Exchange Parts: Free

Market: Global

Trademark: Proman

Transport Package: Wooden Cases

Specification: 3m*1.8m*2m

Origin: China

HS Code: 84774010

Product Description

Servo Energy Saving Injection Molding Machine

Servo energy saving injection molding machine output power changes with the loading changing. There's no extra waste of power. The motor doesn't work while cooling, electricity consumption is 0. As compared with the tradition injection molding machine, the servo machine can save electricity 20%-80% that brings you excellent profit.
-Excellent energy saving

As compared with the traditional fixed pump injection molding machine, it saves energy 20%-80% under the same working condition.
-Excellent injection molding stability

The pressure and flow of servo drive system applies closed-loop control, as compared with the traditional injection molding machine, it greatly increases repeatability precision of injection molding.
-Fast response

Fast response servo drive, the start time faster than that of the traditional injection molding machine by 50%.
-Environmental friendly

The complete machine runs under low noisy, low speed operation and quite.
-Constant oil temperature

The servo motor output hydraulic oil according to proportion to avoid extra heat. Even the hydraulic oil need not to be cooled to realize excellent water saving.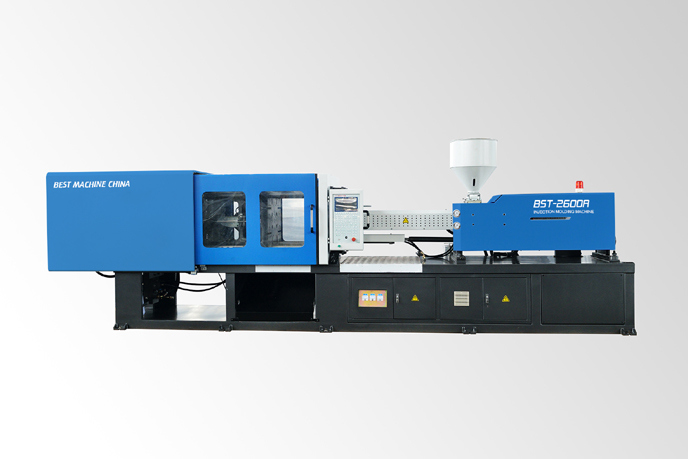 INJECTION UNIT
 
A
B
Screw diameter
mm
54
56
Shot size(theoretical)
Cm³
720
770
Shot weight
g
650
690
Injection pressure
Mpa
190
178
Injection rate
g/s
200
215
Screw L/D ratio
L/D
22.5
21.6
Screw speed
r.p.m
0-180
Nozzle Diameter
Srmm
20
CLAMPING
 
 
Clamp tonnage
KN
2600
Toggle stroke
mm
530
Mould Thickness
mm
200-550
Space between tie-bars
mm
554X554
Ejector stroke
mm
160
Ejector tonnage
KN
70
Ejector number
Piece
9
Hole Diameter
mm
160
OTHERS
 
 
Heat power
KW
15.5
Max. pump pressure
MPa
16
Pump motor power
KW
25
Valve Size
mm
16
Machine dimension
m
6.1X1.7X1.8
Machine weight
t
8
Oil tank capacity
L
350