Component and structure analysis of wireless monitoring system for construction sites
With the continuous advancement of society, large and small construction projects can be seen everywhere in various cities, but safety accidents at construction sites continue to occur. How to ensure the safety of construction workers and the preservation of construction materials and equipment on the construction site are of concern to the construction unit. Top priority.


In order to improve the management efficiency of construction sites, strengthen the safety performance of construction sites, prevent the entry of people and other people into the construction site, resulting in the occurrence of safety accidents and the loss of life and property of the site personnel, the construction of a smart site system dominated by video surveillance is Many building units are popular.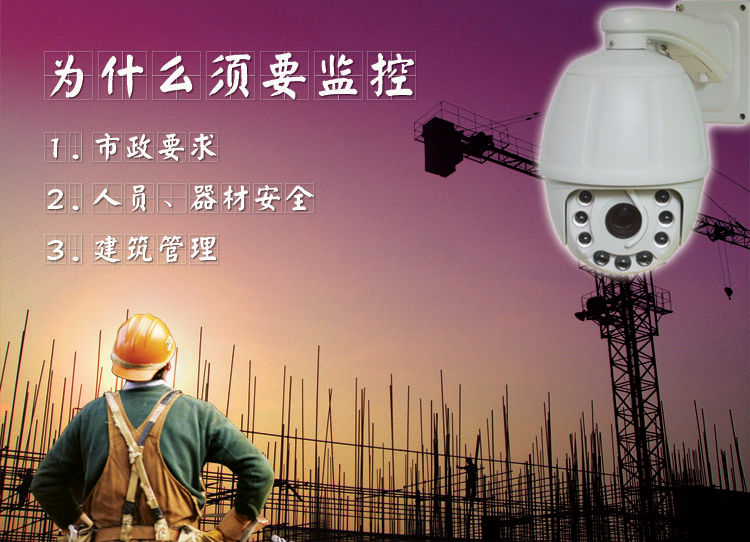 Due to the particularity of the monitoring environment, the wiring of construction sites is difficult, and wired monitoring is difficult to achieve effective deployment of the on-site environment. Wireless monitoring is widely used by many construction engineering companies because of its high flexibility, scalability, and simple maintenance.


Tengyuan Zhituo's construction site wireless monitoring system is mainly divided into three parts, namely front-end acquisition (surveillance camera), mid-end transmission (wireless bridge), back-end monitoring (display, storage device)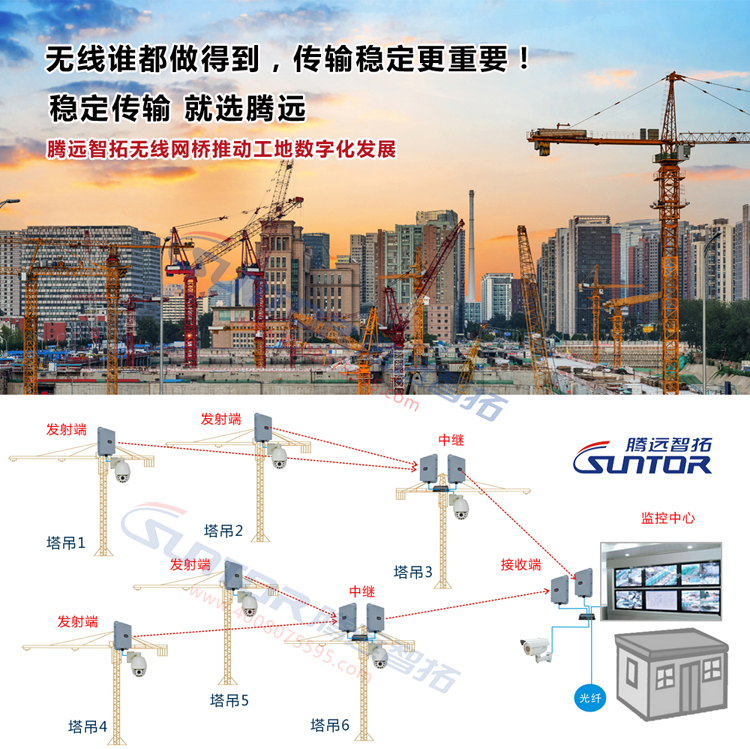 1, the front end - IP camera (used to photograph the construction site, often installed in tower cranes, construction site gates, construction equipment stacking, etc.)


1. The strong light suppression function will inevitably be exposed to strong sunlight during the day, so in order to avoid image abnormalities caused by excessive light, the camera must have a strong light suppression function.


2, all-weather monitoring function, in the construction site will inevitably encounter high temperature, low temperature, wind and rain, dense fog and other weather, so the surveillance camera working on the construction site must have industrial-grade waterproof and dustproof, cold and cold resistant, fog, etc. Features.


3. Support WEB browsing function, which is convenient for management personnel to view monitoring images through PC, mobile phone and other devices.


2, the middle end - wireless transmission equipment: (for monitoring the transmission and reception of video images)


1. Strong anti-interference and stable transmission function, the construction site environment is more complicated, so it is necessary to maintain the anti-interference ability and stability of wireless transmission equipment (wireless bridge). It is recommended to use 5.8G wireless bridge with strong anti-interference ability. For example, ST58T8G-N series (20 km from point to point) and ST5023TD series (50 km from point to point).


2, industrial-level work, long-term outdoor work must ensure the high-strength quality of the equipment, with industrial-grade dust, water, heat and cold resistance, so it is recommended to use industrial-grade quality wireless bridge.


3, back-end - monitor display + hard disk recorder (NVR) (used to display and store surveillance video images)


PS: The back-end can be divided into "temporary monitoring room" and "headquarters monitoring center". The "temporary monitoring room" and "headquarters monitoring center" are connected via the Internet, and the "headquarters monitoring center" can also view the monitoring images of the construction site.


1 Support concurrent video live broadcast function: The system supports unicast or multi-multicast, real-time remote monitoring.


2 Support distributed storage management function: Make data storage hierarchical and networked, and support automatic, manual or task-based recording, retrieval or playback.


The wireless monitoring system plays an important role in the safe construction and perfect management of construction sites. In the future, wireless monitoring systems will become more and more common in the construction industry. Tengyuan Zhituo has 13 years of experience in the wireless monitoring industry. It has many wireless monitoring application cases in various industries. The data of each product is obtained after 6 months of actual testing, which is worthy of your peace of mind.

Frp Chamber Cover,Sewage Chamber Cover,Manhole Chamber,D400 Manhole Cover

Changxing Ro-spring Road Facilities Co., Ltd , https://www.enro-spring.com