All of them have different duties and responsibilities
Aerial vehicles, as the name suggests, are special vehicles that assist workers in working in the air. From the form of lifting mechanism can be divided into telescopic arm, folding arm, vertical and mixed four basic forms. Different forms of lifting mechanisms also mean that they differ in terms of function and responsibilities. Today, Xiao Bian understands the two types of top-selling vehicles currently used in aerial vehicles, the difference between folding arm aerial vehicles and telescopic boom aerial vehicles.

To say what is the most intuitive difference between folding arm aerial vehicles and telescopic aerial platforms is undoubtedly the appearance.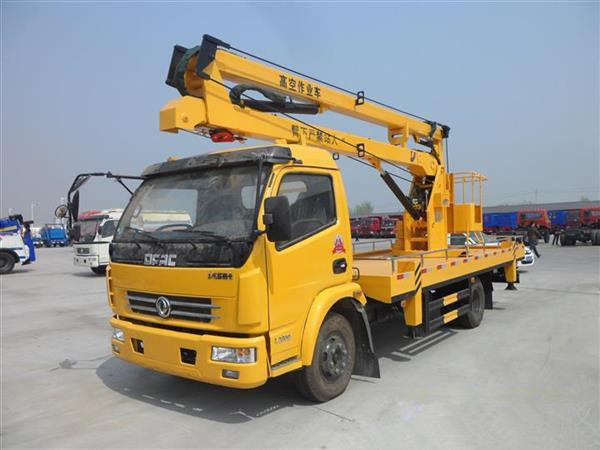 The appearance of the folding boom type aerial working platform is that the lifting mechanism is usually two straight arms or three straight arms folded. The boom can be independently deployed and extended to form different angles. The advantage of this type of boom is that it can be a single arm. Rotation, large angle of extension, simple operation, relatively speaking, the cost is lower.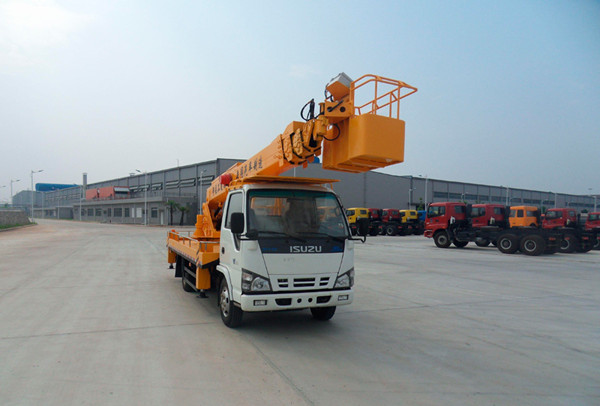 The telescopic boom is relatively simple in appearance. Generally, the telescopic device can be seen on the boom. The front end of the boom is connected to the working platform, and the boom is driven by a hydraulic drive. The advantage of this type of boom is that the arm extends and retracts. Short time, good stability, stable working conditions, and low failure rate.

In actual conditions, the scope of work and duties of folding boom aerial vehicles and telescopic boom aerial vehicles are also not the same.

Folding booms can work at heights across certain obstacles. It is suitable for high-altitude maintenance, cleaning and other operations in the outdoor or plant area, or for overhaul of road bridges.

Telescopic aerial work can be operated in multiple directions. It is suitable for outdoor work sites where the environment is relatively free to extend out of the telescopic boom, for example, maintenance of street lamps, replacement of billboards, etc.

Editor's Note: Through the above understanding, I believe we can basically distinguish the folding boom type aerial vehicles and telescopic boom aerial vehicles. Some people may have to ask which type of aerial work vehicle is more practical. This small series can't really give a definite answer, because this is determined by the actual working conditions of aerial vehicles.




We supply full range of wiper blades, including passenger cars, trucks & buses. In addition, a wide range of adapters are supplied to fit most applications for trouble free installation, firm connections and long service life. The products contain Hybrid wiper blade, Flat(frameless, soft) wiper blade, Traditional(metal, conventional ) wiper blade, Exact fit wiper blade, Spoiler wiper blade, Heavy duty(bus & truck) wiper blade, Rear wiper blade, Wiper arm and Wiper refill.


1) Quality of Windshield Wiper Blade:Have a perfect quality control system,to produce products that customers need.We never use low quality material and cheat customer.

2) Sample lead time of Windshield Wiper Blade : If any samples in stock,can be delivery right now,if specially produced,need 3-5day usually.

3) Develop new Windshield Wiper Blade :We can develop the new wiper blade according to customer drawings and samples,so your design and patterns would also be warmly welcome.
3) Production capacity of Windshield Wiper Blade :3,000,000 pcs per month;
4) Pricing of Windshield Wiper Blade : All the price are factory price,depending on the size and material to be used;
5) MOQ of Windshield Wiper Blade : 1000 pcs, but the more quantity the cheaper;
6) Delivery sea/air port of Windshield Wiper Blade : Ningbo or Shanghai
8) more than 10 years experience :Experts of all kinds of wiper blade,leader of making wiper blades

Wiper Blade,Mitsuba Wiper Blade,Car Windshield Wiper Blade,Windscreen Wiper Blades

COMOTECH ASIA PACIFIC (HANGZHOU)CO.,LTD , https://www.capwiper.com