Hubei Xianning installed more than 6,000 multi-table combined acquisition system
[Chinese instrumentation network instrument industry] "Multiple-in-one-in-one" information collection is not to convert electricity, water, gas, and heat meters into a single sheet, but to unify and standardize existing standards, communications, equipment, etc. The technology system, under the premise of promoting large-scale smart metering and extensive application of energy-using information collection systems, enables the unified collection and management of multiple energy sources.

On October 18th, the first batch of more than 6,000 households of Xianning City in Hubei Province completed the construction, installation and information archiving of their customers. The first batch of 3,753 households were collected and the accuracy was 100%.

"Originally, there were water meters, electricity meters and gas meters in the house. Every month people copied water meters at home. The people who read the meters were in trouble. We are in trouble. Now that we are comfortable, the three tables compose a single table that can automatically retrieve data and do not need to read the meter. On October 8, after carefully checking the correctness of the data in September, Mr. Li, a resident of Longquan, Xianning City, said.

Xianning City's "multiple-in-one" project began in September 2015. After on-site inspection of the eligible communities, 6 of them were included in the first batch of transformation plans. In the past year, the State Grid Xianning Power Supply Company has fully utilized existing power consumption information systems to collect resources, built a cross-industry dynamic data integration platform that is open and interactive, and serves the people's livelihood. It strived for industry cooperation, actively verified the acquisition channels, and assisted the technical support units in implementing the main station system. Functional testing, in accordance with the "cooperation demonstration, first try first use" principle, and gradually promote development.

In the next step, Xianning Power Supply Company will complete 16236 "multiple-in-one-in-one" transformation projects in accordance with the guidance provided by the Xianning Municipal Government for the "complete construction of new residential quarters and gradual transformation of old residential communities".

(Original title: Hubei Xianning Power Supply Co., Ltd. Promotes "Multi-table Integration" Acquisition System)

Solid Tires Series:

Solid Tires for Forklift and Small Field Running Vehicles for Pneumatic Tires Rims

Solid OTR Tires for Pneumatic Tires Rims

Special Tires for Trailers for Pneumatic Tires Rims

Skid Steer Solid Tires With Rims

Solid Tires for Mining Machine With Rims

Solid Tires for Sintering Machine With Rims

Press-on Solid Tires

Solid Tires for Lifting Platform




Characteristics of Structure:

The wheel baseband is made according to the fitting specifications of the vehicles'pivot
bracket.And the thickness and the structure can be adjusted based on the tire
loading.After treating to the basebands,curing reasonable rubber around the baseband
surface to guarrantee the loading of tires and other usage performance.
Characteristics of Usages:
1.Smaller deformation, better stability and security.
2.Running smoothly, slight shaking and twittering.
3.Low rolling resistance, reducing energy consumption, basebands can be recycled reducing cost

and in accordance with the world trend of low -carbon economy.
4.Lower heat built up, good heat yield, overcome the blow-out problem.
5.Easy assembling, no need to fit rims, can be fixed to the vehicles and facilities directly, no worry for
spinning.
6.Heavier loading, 10%-15% increase of loading than the same size of tires.
About Us:

We manufacture and sell solid tires, as well as conducts research and development of the latest

technology of solid tires.
Our company products conform to standards such as Chinese GB, US TRA, European ETRTO,

and Japanese JATMA and have passed the ISO9001:2008 quality certification.
Our technical team has demonstrated their capability of delivering the best tire solution and products

to clients with different working environments, ranging from sea ports, supply chain centers, mines,

aviation grounds, high temperature operations, refuse disposal centers, railway constructions, tunnel

constructions, and heavy goods transportations to factories that require a super clean working condition.
Our solid tyres have been exported to North America, Europe, Northeast Asia, Oceania, and Africa.
Our company also delivers OEM products to many prominent enterprises, such as Sany Heavy Industry,

Carrie Heavy Industry, XCMG, Liugong Machinery, Maximal, Tailift MCC Baosteel and Haipeng Indestry etc.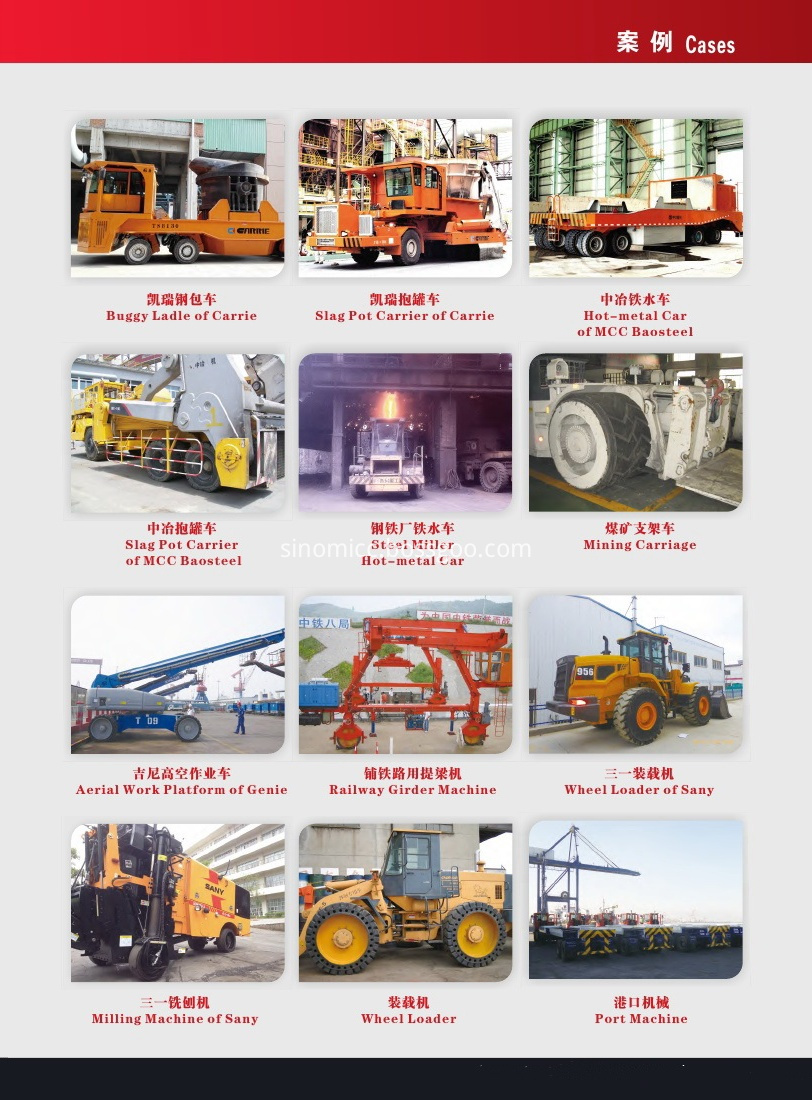 Solid Tires,Pneumatic Rims Solid Tires,Industrial Solid Tire,Running Vehicles Tire

SINOMICC INTERNATIONAL , https://www.rockstartyre.com