Liugong lifting machine TC100A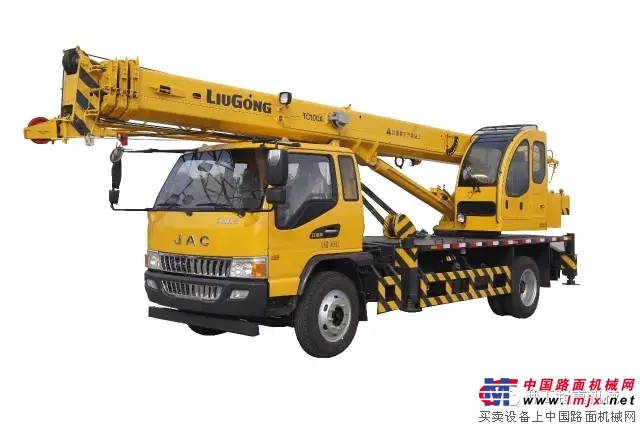 The main technical parameters
Super boom

High-strength hexagonal main arm with a maximum lifting height of 25.1m and strong lifting capacity;

The inserted arm head design reduces the boom shake, side bend and twist, and the boom is smooth and efficient;

The anti-torsion steel wire rope has high strength and good flexibility, and effectively prevents the wire rope from being entangled. The steel wire rope core storage oil effectively prevents corrosion and prolongs the service life.

Double hoisting, easy to handle a variety of conditions

High-strength frame and oversized leg span

The high-strength anti-twist box frame structure is verified by finite element optimization analysis and overload strengthening test, and the performance is stable and reliable;

4.6m × 4.9m large leg span, strong lifting operation;

Efficient hydraulic system

Large displacement triple gear pump, domestic first-class main control valve, efficient and stable operation, powerful lifting;

Robust chassis

Jianghuai general chassis, easy maintenance and maintenance; equipped with rear axle auxiliary shock absorber to improve driving comfort; equipped with ABS brake anti-lock device, perfect for emergency situations and safer driving.

Luxury panoramic cab

Four steering wheels, high quality LCD backlight combination instrument lights, stylish, high-end, atmospheric;

Adjustable shock-absorbing seat, humanized sleeper design, easy to work for the driver;

MP3, radio, air conditioning, entertainment and comfort, suitable for long and short transitions in various environments.

Wide body control room

The access control room is spacious, with a wide view, safe, beautiful and stylish; comfortable seats, headrests, armrests and front and rear seats can be adjusted.

Barrier-free walking board

All-metal side wall panels are environmentally friendly and easy to maintain; barrier-free full-slab walk-through plates with no screws on the surface enhance safety and increase storage space.

Value added configuration

Standard auxiliary lifting mechanism, arm end pulley and auxiliary hook, perfect for single rope working conditions;

On-board electronic throttle, high sensitivity and reliability, easy to use;

Standard radial tires have strong carrying capacity, good durability, safety and reliability.

Optional parts:

The jib is matched to greatly increase the working height;

Optional electric pump system, energy saving and emission reduction;

Single control air conditioning in the control room.

(This article is from Liugong Lifting Machinery)




What are CNC Plasma Cutting Machines?




Plasma cutting is a process that cuts through electrically conductive materials by means of an accelerated jet of hot plasma. Typical materials cut with a plasma torch include steel, Stainless steel, aluminum, brass and copper, although other conductive metals may be cut as well. Plasma cutting is often used in fabrication shops, automotive repair and restoration, industrial construction, and salvage and scrapping operations. Due to the high speed and precision cuts combined with low cost, plasma cutting sees widespread use from large-scale industrial CNC applications down to small hobbyist shops. CNC cutting machines, such as CNC plasma cutting machines, utilize their intricate software systems and components to efficiently, accurately and smoothly handle plasma cutting processes.




CNC Plasma Cutting vs. Other Cutting Methods:




Of course, plasma cutting is only one variety of system which

CNC machines

may be designed to work with. Another common variety is the CNC waterjet cutter. Waterjets can use either a mixture of pressurized water and abrasive, or purely water. One benefit to a waterjet cutter is that there`s no HAZ, or heat-affected zone, which can alter a material.

Another cutting method utilizing CNC machines is oxy-fuel, using fuel gases and oxygen, which dates back about 100 years. Here, a stream of oxygen is blasted onto a metal heated to kindling temperature, turning it into a flowing metal oxide.

With CNC plasma cutting machines, a plasma torch blows an inert gas at high speeds out of a nozzle, through an electrical arc, which turns some of that gas to plasma.

While all of these options remain widely used today, CNC plasma cutting machines are typically seen as a solution for manufacturers who are concerned with quickly and efficiently cutting conductive materials up to 3″ thick. The CNC plasma cutting process has superior cutting speeds, piercing speeds, and generates very precise cut qualities. More speed and higher quality also produces superior efficiency and productivity.




Cnc Plasma Cutting Machine applications:





It is widely used in the process of cutting metal plates in the machinery manufacturing industry, engineering industry and metal fabrication and can cut mild steel, stainless steel, aluminium, copper and many kinds of non-ferrous metal.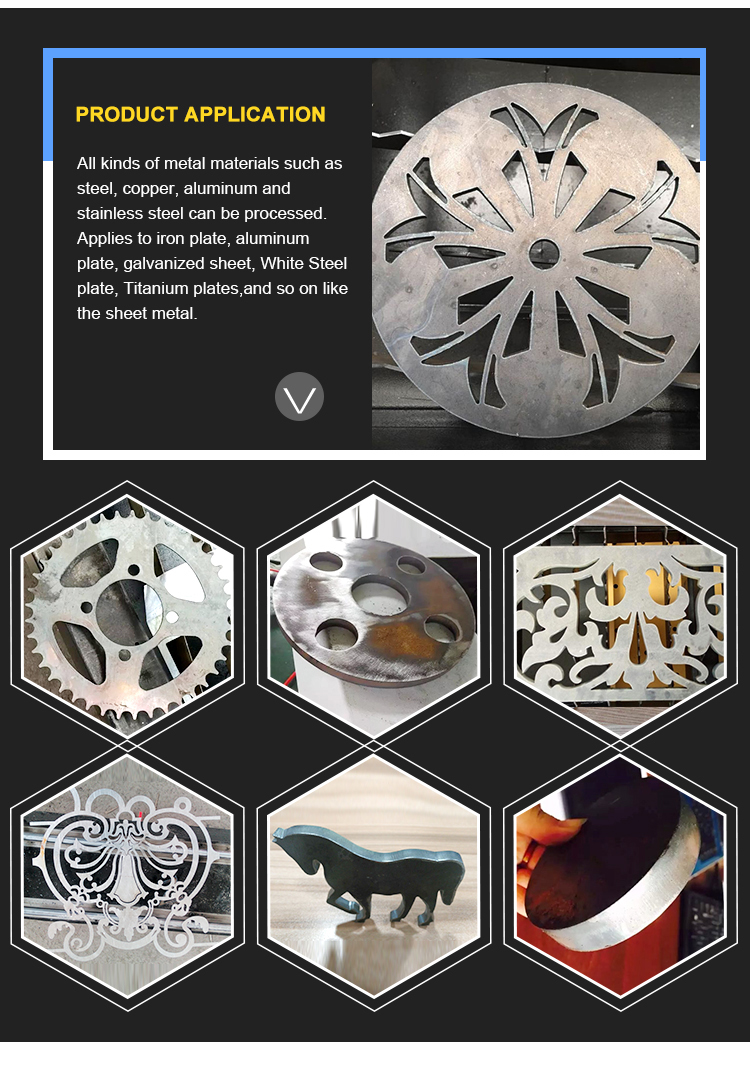 CNC plasma cutting machine features:




1.1300*2500mm standard working area(can tailore made for you)

2.START control system

3.Huayuan 120A plasma generator(Optional: Hypertherm power supply)

4.Cutting Material Collection Box with wheels,for easy take out products

5.High Quality cut performance,Fast cutting speed,high precision and low cost.

6.With firm and reasonable structure,the machine is easy to operate and durable for use.

7.The cutting incision is thin and tidily and can avoid the second processing.

8.High configurated CNC system,auto arc-striking and stable performance.

9.Working with computer and support G code and files of Uncannest software (specilized in cutting metal material) (optional Fastcam software)

10.It can cut metal plate of advertising 3D lighting letter and flute profile letter with high cutting precision.(USA power is optional)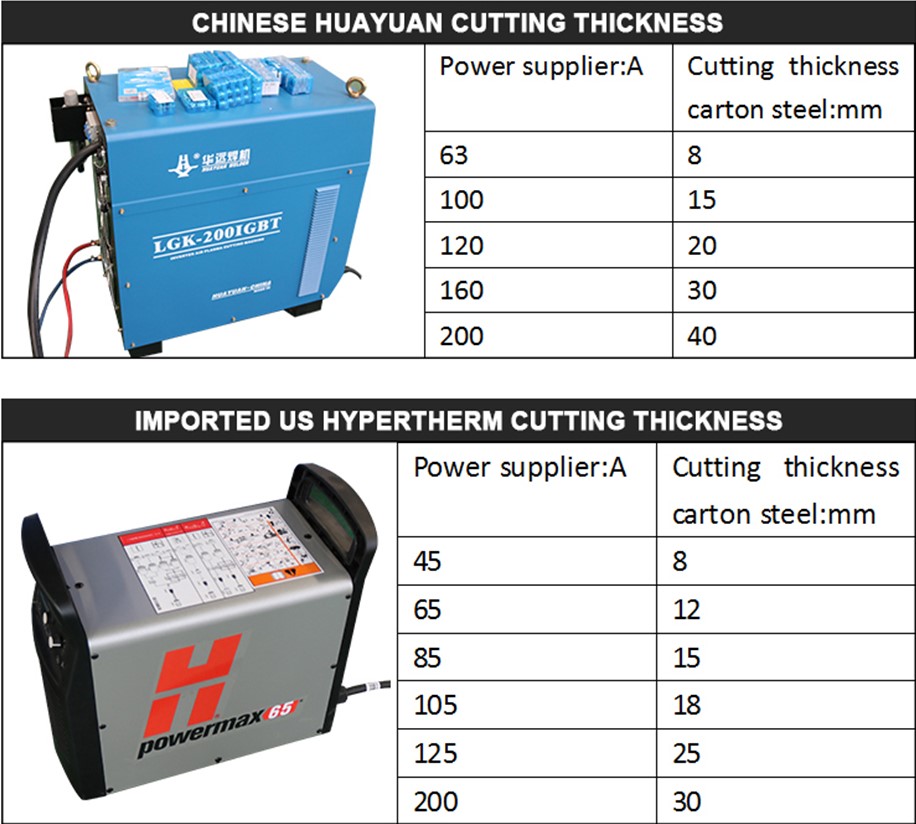 Effective Cutting Width (X axis)

1500mm optional

Effective Cutting Length (Y axis)

3000mm optional

Feature

Dustproof design and heavy duty frame

Drive Mode

Leadshine

Rail

Taiwan inported Hiwin Square rail

Lifting body

1set

Plasma torch

1set

File transmission

USB transmission

Cutting shape

Able to program and cut the steel plate parts with any plane shapes formed by straight lines and arcs;

Software

Fastcam Software

Plasma power source

Huayuan 63A 100A 120A 160A 200A

Hypertherm 45A 65A 85A 105A 125A 200A

Cutting thickness

According to the plasma power source

Height regulating device

Arc voltage height

Cutting speed

0-10000mm/min

Cutting precision

±0.3mm

Control ccuracy

±0.01mm

Support software

Fastcam /Type3/autocad/pro/CAXA etc.

Working Temperature

-5~60°CRelative Humidity, 0-95%.

Power Supply Voltage

380V±20%(220V optional,but we need custom for you)

Packing Weight

3900x2300x1750mm

Packing Size

1500kg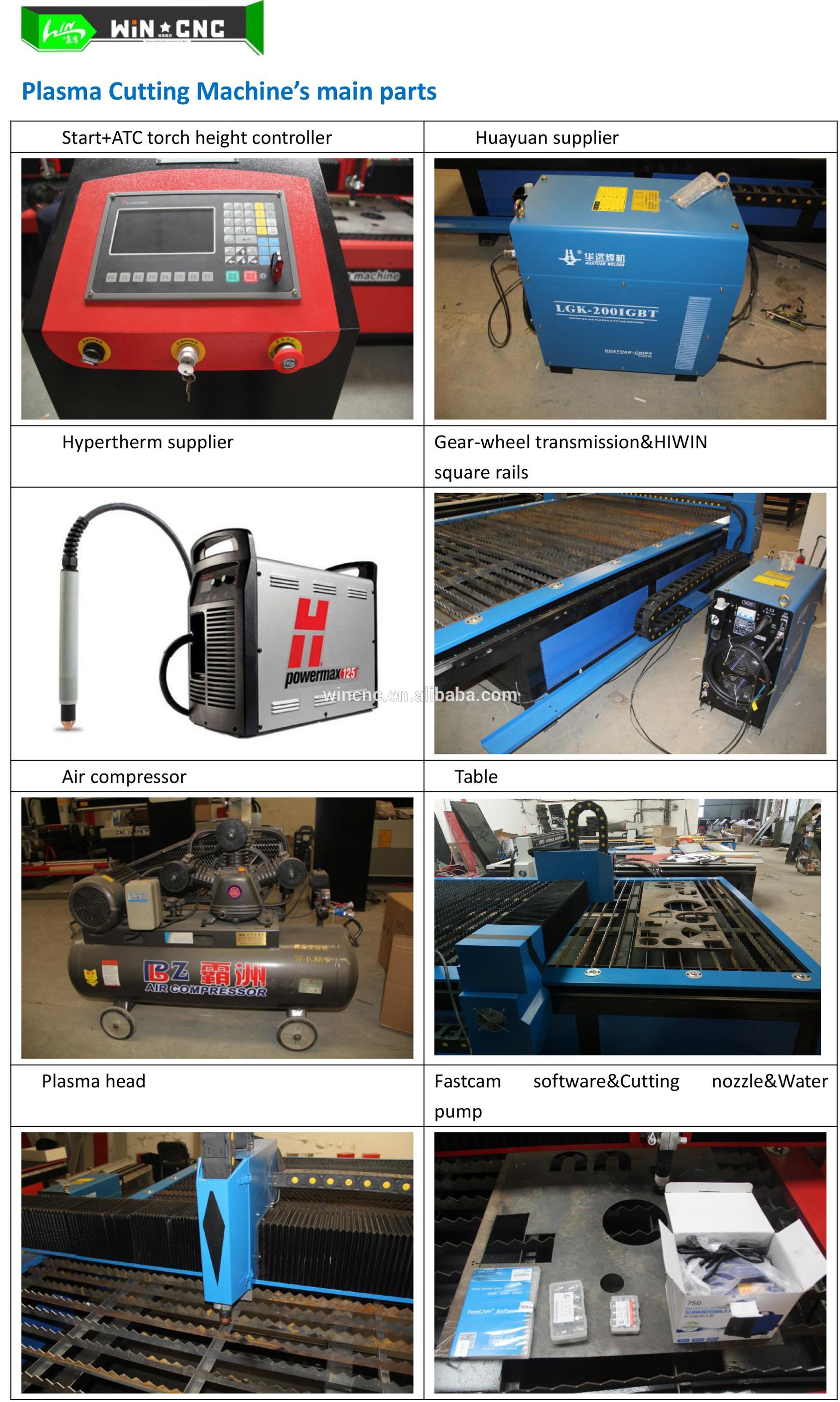 Plasma Cutting Machine

Plasma Cutting Machine,Cnc Plasma Cutting Machine,Plasma Flame Cutting Machine,Plasma Cutter

Shandong U-May CNC Technology Co., Ltd. , https://www.sesamecnc.com